My Blog
Posts for: September, 2014
By First Dental Of Huntersville
September 24, 2014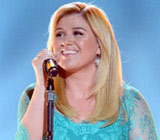 Now that celebrities can communicate directly with their fans through social media, we've started to see dispatches from some surprising locations — the dental chair, for example! Take singer Kelly Clarkson, who was the first winner of American Idol, and perhaps one of the first to seek moral support via social media before having an emergency root canal procedure.
"Emergency root canal — I've had better days," Kelly posted on her Facebook page, along with a photo of herself looking… well, pretty nervous. But is a root canal procedure really something to be scared about? It's time to clear up some misconceptions about this very common dental procedure.
First of all, root canal treatment is done to save a tooth that might otherwise be lost to an infection deep inside it. So while it's often looked upon with apprehension, it's a very positive step to take if you want to keep your teeth as long as possible. Secondly, tooth infections can be painful — but it's the root canal procedure that stops the pain. What, actually, is done during this tooth-saving treatment?
First, a local anesthetic is administered to keep you from feeling any pain. Then, a small opening is made through the chewing surface of the infected tooth, giving access to the central space inside, which is called the "pulp chamber." A set of tiny instruments is used to remove the diseased pulp (nerve) tissue in the chamber, and to clean out the root canals: branching tunnel-like spaces that run from the pulp chamber through the root (or roots) of the tooth. The cleared canals are then filled and sealed.
At a later appointment, we will give you a more permanent filling or, more likely, a crown, to restore your tooth's full function and protect it from further injury. A tooth that has had a root canal followed by a proper restoration can last as long as any other natural tooth — a very long time indeed.
If you have any questions about root canal treatment, please contact us or schedule an appointment for a consultation. You can learn more by reading the Dear Doctor magazine article "A Step by Step Guide to Root Canal Treatment."
By First Dental Of Huntersville
September 09, 2014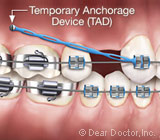 Braces are certainly the most recognized means for moving misaligned teeth. But depending on your or your family member's particular malocclusion (bad bite), your orthodontist may also include other "anchorage" appliances to achieve the best results.
We can move teeth because of a mechanism that already exists in the mouth. The periodontal ligament, which holds teeth in place by attaching the tooth surface to the jawbone, allows teeth to move if needed in response to biting forces or normal tooth wear. Using braces or similar appliances, orthodontists can apply gentle but constant pressure to move teeth to new and better positions.
This applied pressure, however, soon encounters an "equal and opposite reaction," in accordance with Newton's third law of motion. In a way, we're playing tug-of-war with the periodontal ligament — and as in the playground game, the key to "winning" is having the stronger point of resistance, something we call anchorage.
We often use the teeth themselves to establish this anchorage with the help of elastics (rubber bands) attached at various locations in the braces. Sometimes, though, the situation requires a different form of anchorage. In a younger patient, for example, we may want to influence the facial structure's growth and development along with tooth movement. In this case we might use the patient's skull for additional anchorage by having a strap running around the back of the head that attaches to brackets affixed to the teeth.
Another method involves a temporary anchorage device (TAD) directly implanted into the jawbone. We use TADs to isolate teeth we want under pressure from teeth we don't (as with moving front teeth back without causing the back teeth to move forward). Usually made of stainless steel that won't fuse with bone, TADs are relatively simple to remove once treatment is complete. Another form of anchorage is a titanium micro-implant, a miniature version of a dental implant that's also inserted into the bone; like its larger relative, micro-implants fuse with the bone to add greater stability. Their diminutive size, however, eases any difficulty in their eventual removal.
Though some of these appliances aren't visually appealing, they are temporary in nature and only applied for as long as needed. The end result, though, is permanent — beautifully aligned teeth that perform well and look great.
If you would like more information on orthodontic appliances, please contact us or schedule an appointment for a consultation.