My Blog
Posts for: July, 2014
By First Dental Of Huntersville
July 17, 2014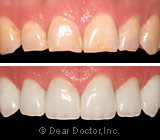 Nothing says confidence like a bright, beautiful smile. But problems with your teeth's appearance — discoloration, abnormal shapes, or gaps — may be giving you reasons not to smile. If so, you may be a candidate for porcelain veneers.
A veneer is a thin covering of porcelain or other dental material permanently attached to the face of a tooth to improve its appearance. Veneers help resolve a variety of aesthetic issues: their life-like color can brighten dull, stained teeth; they can "lengthen" shortened teeth caused by wear or normalize congenitally misshapen teeth; they're also helpful in reducing small gaps or used in conjunction with orthodontics for more serious misalignments.
The first step to a better smile with veneers is to assess your teeth's current condition and develop a treatment plan. Your input is extremely important at this stage — what changes you believe would improve your smile. We would also offer valuable insight, based on our knowledge and experience, into what is realistically possible and aesthetically appealing regarding porcelain veneers.
Once you have decided to go forward, the next step is to prepare the teeth for attaching the veneers. Depending on their size and location, this preparation can range from no tooth structure removal to a relatively small amount of structure. If the latter is needed, we remove only what's necessary to achieve the aesthetic result since structural reduction isn't reversible.
After preparing an impression of your teeth, we would send it and other instructions to a dental technician to create the permanent veneers. In the meantime, we'll install a temporary set for you to wear while the permanent set is under construction.
Once we attach the permanent veneers, they will adhere so securely a drill or laser would be needed to remove them. We achieve this attachment by creating microscopic pores on the face of the teeth and the inside of the veneer with a mild acid solution. The bonding cement seeps into these pores and creates a strong bond that virtually unites the tooth and veneer into one.
Although your new veneers are made to last, you'll need to maintain them like your other teeth, with a little added caution when biting and chewing. All in all, though, you'll be able to smile again with confidence — for many years to come.
If you would like more information on porcelain veneers, please contact us or schedule an appointment for a consultation. You can also learn more about this topic by reading the Dear Doctor magazine article "Porcelain Veneers."
By First Dental Of Huntersville
July 02, 2014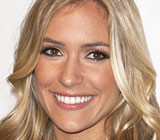 While she was pregnant with her son Camden Jack Cutler, 25-year-old Kristin Cavallari noticed an odd occurrence in her bathroom sink: "Every time I floss, my sink looks like I murdered somebody!" the actress and reality-TV personality exclaimed. Should we be concerned that something wicked is going on with the star of Laguna Beach and The Hills?
Before you call in the authorities, ask a periodontist: He or she will tell you that there's actually no mystery here. What Cavallari noticed is, in fact, a fairly common symptom of "pregnancy gingivitis," a condition that affects many expectant moms in the second to eighth month of pregnancy. But why does it occur at this time?
First — just the facts: You may already know that gingivitis is the medical name for an early stage of gum disease. Its symptoms may include bad breath, bleeding gums, and soreness, redness, or tenderness of the gum tissue. Fundamentally, gum disease is caused by the buildup of harmful bacteria, or plaque, on the teeth at the gum line — but it's important to remember that, while hundreds of types of bacteria live in the mouth, only a few are harmful. A change in the environment inside the mouth — like inadequate oral hygiene, to use one example — can cause the harmful types to flourish.
But in this case, the culprit isn't necessarily poor hygiene — instead, blame it on the natural hormonal changes that take place in expectant moms. As levels of some female hormones (estrogen and/or progesterone) rise during pregnancy, changes occur in the blood vessels in the gums, which cause them to be more susceptible to the effects of bacterial toxins. The bacteria produce toxic chemicals, which in turn bring on the symptoms of gingivitis — including painful and inflamed gums that may bleed heavily when flossed.
Is pregnancy gingivits a cause for concern? Perhaps — but the condition is generally quite treatable. If you've noticed symptoms like Kristen's, the first thing you should do it consult our office. We can advise you on a variety of treatments designed to relieve the inflammation in your gums and prevent the harmful bacteria from proliferating. Of course, your oral health (and your overall health) are prime concerns during pregnancy — so don't hesitate to seek medical help if it's needed!
How did things work out with Kristen? She maintained an effective oral hygiene routine, delivered a healthy baby — and recently appeared on the cover of Dear Doctor magazine, as the winner of the "Best Celebrity Smile" contest for 2012. And looking at her smile, it's no mystery why she won.
If you would like more information about pregnancy gingivitis, please contact us or schedule an appointment for a consultation. You can also learn more by reading the Dear Doctor magazine articles "Expectant Mothers" and "Kristen Cavallari."